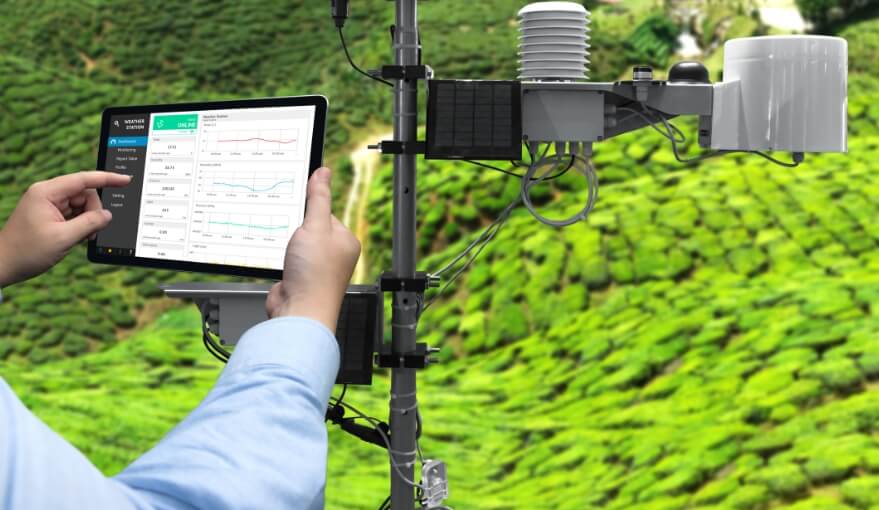 Turning data into decision agriculture
Agriculture is without a doubt a branch of industry that depends the most on weather conditions.
Although you cannot influence the weather, our advanced weather stations will provide you with reliable real-time hyper-localized data on weather and crop conditions on your plots. Whether it is sowing, spraying, irrigating, fertilizing, or harvesting, with the Pessl Instruments iMETOS solution you will always know what steps you need to take next and optimize your production.
What do we offer in the field of Smart Agriculture solutions?
Through a partnership with the Austrian company Pessl Instruments, we, at TeleGroup Slovenia, offer a comprehensive IoT solution for environmental monitoring, disease models, soil moisture, and more.
In addition to the delivery of hardware and software, we design the entire solution, implement meteorological stations in the field, adjust the software in accordance with the type and kind of your land and crops. After implementation, we maintain your system, so that you always have reliable information about all the parameters that affect the success of your agricultural production. From now on you will look at the sky just to rest your eyes!
As we have integrated this solution with our Agrolife platform, now you will control the situation in the field via any smart device in real-time – from insight into where all your weather stations are located and what weather conditions are expected, through monitoring the condition of crops and plant diseases on each plot to information about the status of your equipment.
Cutting-edge iMETOS weather stations are ready for delivery to your field or farm
Our weather stations are easily installed in the field and during the season you can move them to different fields, greenhouses, or foliar tunnels. They accurately measure the amount of precipitation, automatically send alarms in case of frost and low temperatures, forecast diseases, measure evaporation, and soil moisture levels. You can monitor all this important data at any time through our Agrolife mobile or web application.
The most important features
What is necessary for the weather station to work?
What do IoT weather stations bring to an agricultural producer?
— Reduction of operating costs
— Better and higher quality yields
— Optimize the use of pesticides, fertilizers, and the irrigation process
— Hyperlocalized weather forecast at the level of individual plots
— Monitoring the health of crops and detecting plant diseases on time
Let's Discuss.

Learn how to digitalize and automate production processes.